Terry Handley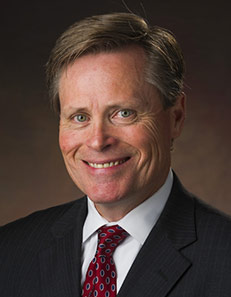 President & CEO
Terry Handley is the President and Chief Executive Officer of Casey's General Stores, Inc. in Ankeny, Iowa. He is a thirty-seven year veteran of the company having served in various capacities including Director of Marketing, Store Operations Regional Manager, Vice President of Food Service and Senior Vice President of Store Operations prior to being named Chief Operating Officer in 2006. He was named President in June of 2014 and was promoted to Chief Executive Officer in May of 2016.
Terry represents Casey's as a member of the Iowa Business Council, a proactive advocacy organization of Iowa's largest businesses, the state's Regent University Presidents and representatives of the Iowa Banking Association, focused on commercial infrastructure, technology initiatives and philanthropic efforts across the state of Iowa. He is also a member of the Board of Trustees for Simpson College in Indianola, Iowa.
Terry earned a Bachelor of Arts degree in Business Management from Simpson College. He and his wife, Nancy, have three children; Joseph, age 25, Jon and Erin, age 19. Terry enjoys hunting and other outdoor activities and winetasting trips to Napa and Sonoma Valleys with Nancy.