Susan Thompson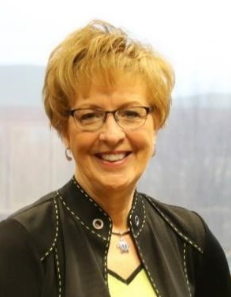 Interim President & CEO
Susan K. Thompson, MS, BSN, was named Interim President and Chief Executive Officer of UnityPoint Health in April 2020. She previously served as Senior Vice President of Integration and Optimization for UnityPoint Health and CEO of UnityPoint Accountable Care, where she partnered closely with physician and clinical leaders to identify and deploy evidence-based best practices to improve care, improve the health of populations and lower healthcare costs.
Previously, Sue held a variety of leadership roles during her 31 years with UnityPoint Health – Fort Dodge, including Chief Executive Officer from 2010-2015. In 2011, UnityPoint Health – Fort Dodge was named one of the first 32 Medicare Pioneer Accountable Care Organizations (ACO), with Fort Dodge representing the smallest, most rural ACOs in the United States.
Sue has more than 40 years of experience in health care, including an extensive background of executive leadership, performance improvement and clinical nursing. Her passion for preserving access and improving the quality and delivery of healthcare to rural America has afforded her opportunities to share her experiences with Harvard Business School, the Rural Policy and Research Institute, and the Advisory Board. Prior to joining UnityPoint Health, Sue worked at Mercy Hospital in Council Bluffs, Iowa for 10 years in progressive management roles, including nursing leadership, clinical performance improvement, and physician peer review support.
In 2015, Sue was the first Iowan named to the Medicare Payment Advisory Commission (MedPAC), an independent congressional agency established by the Balanced Budget Act of 1997 (P.L. 105-33) to advise the U.S. Congress on issues affecting Medicare. In 2018, Sue was invited to testify before the U.S. Senate Finance Committee regarding rural health care.
Sue received her Bachelor of Science in Nursing and a Master of Science in Health Services Management from Clarkson College in Omaha, Nebraska. She and her husband, Dave, are most proud of their two children and their spouses, all actively engaged and employed serving rural health care settings in Iowa.
UnityPoint Health is the nation's 13th largest nonprofit health system and the fourth largest nondenominational health system in America, providing care to both metropolitan and rural communities across Iowa, western Illinois and southern Wisconsin. Through relationships with more than 400 physician clinics, 21 regional and 19 community network hospitals and home care services throughout its 9 regions, UnityPoint Health is one of the nation's most integrated health systems. Headquartered in West Des Moines, Iowa, UnityPoint Health entities employ more than 30,000 employees who are dedicated to making it easier for people to live well. More at unitypoint.org.