Bob Ritz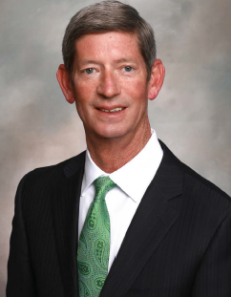 CEO
Robert (Bob) P. Ritz is CEO of Mercy Health Network, an integrated system of hospitals and health care facilities dedicated to delivering outstanding health care services to improve the health of people throughout Iowa and surrounding areas. Mercy Health Network (MHN) was founded in 1998 through a joint operating agreement between Catholic Health Initiatives, headquartered in Englewood, Colorado, and Trinity Health, headquartered in Livonia, Michigan, two of the country's largest Catholic, not-for-profit health organizations.
MHN and its two owner-members own and operate eight medical centers and other services in six major markets in Iowa – Clinton, Des Moines, Dubuque, Mason City, Sioux City and Waterloo/Cedar Falls – and community hospitals in seven other locations. In addition, MHN has 26 affiliated organizations that participate through contracts for management and other services, and one joint-ventured surgical hospital in South Dakota. MHN includes more than 3,200 licensed hospital beds, more than 17,000 colleagues, and a Mercy Accountable Care Organization recognized as one of the most successful ACOs in the nation.
Prior to beginning at MHN on July 1, 2017, Bob served as President of Mercy Medical Center, an 802-bed acute care, not-for-profit Catholic hospital situated on three campuses in the Des Moines metro area. In this role, he helped develop strategic alignments with area hospitals and physician practices, developed a one-call referral center offering a variety of specialty services unique to Iowa and the region., facilitated the development of a comprehensive patient experience program for more than 7,000 Mercy Colleagues, implemented Phase I of a Master Campus Plan to rebuild the hospitals main campus, partnered with Kindred Health for the construction of a 50-bed freestanding inpatient rehabilitation hospital, and helped navigate through a variety of financial and competitive challenges. Guided by a faith-based mission, he also served in previous administrative roles as Division President of Hospital Sisters Health System in Springfield, Illinois; President/CEO of Monongalia Health System in Morgantown, West Virginia; and President/CEO of St. Mary's Hospital in Waterbury, Connecticut where he started his career in 1987.
Bob received his Bachelor's Degree in Business Administration from Wheeling Jesuit University in Wheeling, W.Va., and holds a master's degree in health administration from Sloan Program in Health Services Administration from Cornell University in Ithaca, N.Y.
Bob and his wife, Mary, reside in Urbandale, and together they have three sons. In addition to spending time with his family, Bob's interests include running, skiing, golfing and community activities.