Brooks Jackson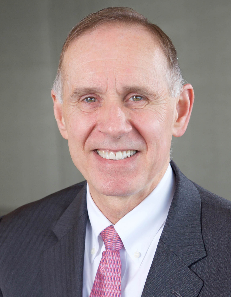 Vice President for Medical Affairs
University of Iowa Health Care
Brooks Jackson, MD, MBA, became the vice president for medical affairs and dean of the Roy J. and Lucille A. Carver College of Medicine in November 2017. As vice president for medical affairs, he is responsible for integrated planning and operations for University of Iowa Health Care, which is comprised of UI Hospitals and Clinics; the UI Carver College of Medicine; and UI Physicians, the state's largest multi-specialty physician group practice. A powerful resource for Iowa, UI Health Care has a total impact of more than $4 billion on the state's economy and is responsible for more than 33,000 jobs in the state.
As dean of the UI Carver College of Medicine, he is the leader of Iowa's only allopathic medical school, with the mission of inspiring and educating world-class health care providers and scientists for the people of Iowa and our global community. In addition to serving as dean, Jackson is a professor in the Department of Pathology.
Jackson is an internationally recognized AIDS researcher and is board-certified in pathology and blood-banking. He was the principal investigator of the National Institutes of Health–funded International Maternal Pediatric Adolescent AIDS Clinical Trials (IMPAACT) Network, which conducted landmark clinical trials for the prevention of mother-to-child HIV transmission and the treatment of pediatric HIV infection and complications. These trials led to the prevention of HIV infection for hundreds of thousands of infants as well as improved treatments for children born with HIV worldwide.
Prior to leading UI Health Care, Jackson had served since 2014 as the vice president for health sciences and dean of the medical school at the University of Minnesota. In that role, he was the executive leader for the university's academic health center, which coordinates care and learning across six schools and colleges in dentistry, medicine, nursing, pharmacy, public health, and veterinary medicine. Jackson also served as chair of the University of Minnesota Health board of directors and the University of Minnesota Physicians board.
From 2001 to 2014, he led the pathology department at the Johns Hopkins University School of Medicine. He holds an MBA and MD from Dartmouth College in New Hampshire and completed his residency in pathology at the University of Minnesota.