FBL Financial Group, Inc.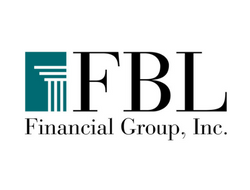 Company Website: http://www.fblfinancial.com
FBL Financial Group, headquartered in West Des Moines, Iowa, is traded on the New York Stock Exchange under the symbol FFG. Through its consumer brand, Farm Bureau Financial Services and its exclusive agents, it offers a broad range of life insurance, annuities, wealth management and property-casualty products. For more information, please visit www.fblfinancial.com and www.fbfs.com.